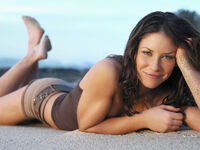 Katherine "Katie" Anne Joan Monica Maggie Lucy Austen-Janssen-Hart-Ryan-Callis-Dodd is a homicidal inhabitant of the Island. Granted, she's a sexy homicidal inhabitant. Like her mother and her friend Sun, Kate likes to sleep around and as of Season 5 currently holds the record for sleeping with the most characters. This includes, but is not limited to: Jack, The Marshall, the Hobbit, Sawyer, and Malcolm Reynolds (go browncoats). Her next target is hinted as being Juliet (well... that's what most male fans hope for anyways). Tom Friendly is the only known person to reject Kate's advances, claiming she was not his type. However, it should be noted that Tom was ostracized from the LGBT community from Clay Aiken, Elton John, and Carson Kressley -- who have all reported that "I'm gay - but I'd sure as hell tap that".
Off-Island
Edit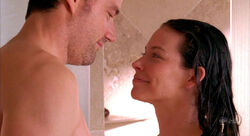 Community content is available under
CC-BY-SA
unless otherwise noted.