Ne il "Frogurt" was a mid-section survivor of Oceanic Flight 815 and was a main character in the show in his own mind, Frogurt's Adventure on Craaazaaay Island. He eventually was involved in two crossover episodes, Because You Left, and The Lie, only to be shot by a flaming arrow after the "I'm a Celebrity, Get me Out of here!" cast accidentally stumbled onto set during their Flaming Arrow Challenge. He was missed by nobody.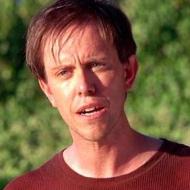 Frogurt's Adventure on Craaazaaay Island
Edit
Frogurt's Adentures on Craaazaay island began when he crashed on the beach and realized no one recognized him. Desperate for a friend of any kind, he turned to the soon-to-be-suicidal Dave. Dave killed himself when Frogurt told him that they were best friends. From then on, Frogurt continued being and overall behind-the-scenes douchebag. Him and Arzt became good friends and they often dicussed DC versus Marvel, until Arzt blew up.
Frogurt then attempted to befriend Hurley. His opening line of, "Hey, fattey!" didn't go over well and a friendship was never forged.
Later, an oppurtunity came when The Man in Black could have abducted his body. In fact, if he had done so - he would have won all the cookies. However, MiB's pride wouldn't allow him to take on the form of Frogurt.
Frogurt's Adventures on Craaazaaay Island was cancelled after 4 episodes, only 3 of which aired.
Frogurt attempted to enter into a snack company battle between Edward Mars and Johnny Apollo, but couldn't come up with a cool candy bar. Instead he took a different route. His contribution to supermarket aisles around the world? Frogurt's Yogurts, of course. Only 45 sold worldwide (citation need).
Community content is available under
CC-BY-SA
unless otherwise noted.